Honeybush tea from the Langkloof: a sweet deal all round
Yves Vanderhaeghen reports on a social enterprise aiming to farm and harvest Honeybush tea and regenerate the Langkloof catchment area at the same time.
The bald flanks of the mountains along the Langkloof in the Eastern Cape don't encourage growth. Some aliens and a smattering of hardy fynbos species have managed to cling on. So too has honeybush (the common name for the Cyclopia genus), and even in this hardscrabble countryside, it holds out promise for a commercial tea crop which can provide livelihoods as well as a bridgehead for reviving a depleted ecosystem.
Behind the push to make the most of it is The Honeybush Company, which defines itself as a social enterprise whose aim is to help local farmers make use of wild honeybush tea, while "maintaining the ecological function of the natural vegetation". The Honeybush Company is also trialling regenerative cultivation practices together with these farmers.
Daniel Fourie, the regenerative agriculture specialist and company manager, says the land hosts a mix of suurveld, fynbos and grasses, but it is largely degraded due to overgrazing by sheep and the clearance of natural growth for unviable farming. What arable land there is, is in the valley covered by pear and peach, but mainly apple, orchards. And as the water catchment area for the Kouga Dam, which feeds Gqeberha, the Langkloof's ecological fate has to be carefully nurtured, says Fourie. He stresses that the fynbos which has been cleared can't bounce back as its ecosystem has been destroyed and occupied by alien plants. The Honeybush Company's objective is to incentivise farmers to clear the alien vegetation, plant honeybush and try to re-establish fynbos plants which are being cultivated in their nursery.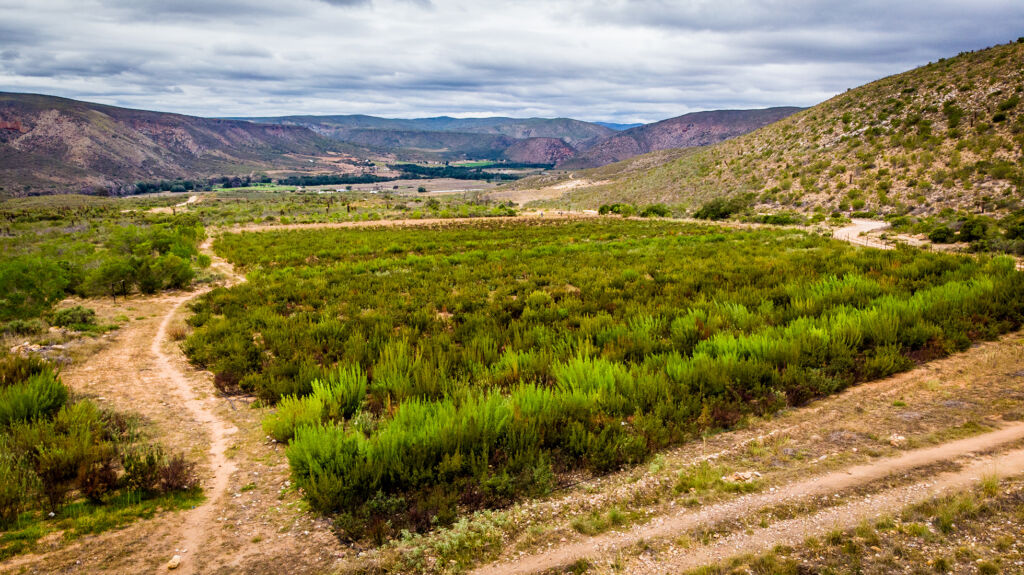 Fourie says the venture started off as "an NGO-type project. There was an impact grant finance from the Netherlands, initially looking just at landscape restoration, especially in the rivers, which supply 90% of Gqebergha's water. We then looked at a business model which would pay for the restoration that was being done."
They then approached Commonland, a philanthropic organisation, whose mission is to "identify and scale urgent climate solutions to ensure a liveable planet, and support farmers in their transition to regenerative agriculture and to bring high-quality, traceable, regenerative ingredients to markets."
Together they developed a business model in 2016, to harness and preserve honeybush, which was being overharvested in the wild, and simultaneously restore the catchment areas by removing alien vegetation. The model, while ultimately designed to be commercially viable, rests on social, environmental, economic and inspirational investment, to ensure comprehensive sustainability.
Fourie says that the business incorporates small farmers, who have from one to about 35 hectares, to large commercial farmers who have set aside some of their land which is not suitable for other farming, for honeybush.
Fourie says it is not a co-op model, but rests on agreements with owners to develop a sustainable harvesting plan, and an NGO which does the alien clearing. There is also a small push to start cultivating honeybush.
It is, cautions Fourie, a small industry. "It's a small crop, and not a major commodity in South Africa". For comparison, he notes that the Rooibos industry produces between  14 000 and 20 000 tons of tea a year, while honeybush produces 250 to 300 tons, mainly from the Langkloof (80%), but also in pockets from Tsitsikamma to Mossel Bay.
How would success be measured then?
"It is difficult to tell if we are succeeding," says Fourie. But "we see success when some landowners do take restoration seriously, clear aliens, and work on long-term supply arrangements. There is active, but in a lot of cases aliens spread faster than we are able to clear, and if a landowner is not clearing then we are still going backwards."
Fourie, who is trained in biochemistry and microbiology, defines regenerative agriculture as "a set of agricultural practices and tools, which include organic, no-till cultivation, animal integration, and improvement of soil carbon through cover cropping and intercropping"
In the cultivated honeybush plantations, they plant "pasture type crops such as rye grass and clover. We also plant mustard and kale, which are disease suppressants, killing, for example, nematodes on roots. We start new fields by planting mustard as a dense crop, then turn it into ground before planting honeybush, and then we plant more mustard as a support plant".
"We have a nursery with two local entrepreneurs to grow multiple species, including fynbos, and other indigenous species with commercial potential for essential oils, such as wilde els and Cape camomile. That we have complementary plants to create an ecosystem, which in turn makes it more viable for honeybush.
It hasn't all been plain sailing, says Fourie. "Market is our biggest challenge. Four or five years ago our market collapsed because of oversupply, overharvesting and poor quality. On top of that we had Covid. The market shrank to a third of its size, and we had to regain buyer confidence and create a consistent supply. The project was supported by Oppenheimer Generations Research and Conservation and Oppenheimer Philanthropies, who  provided a convertible grant to get us back on our feet."
Fourie says that honeybush "is not seen as a cash crop, more of an opportunistic afterthought, and so recruiting farmers has been difficult". Therefore, on the big farms of 1 000 to 1 500 hectares which have apples or lucerne on 60 to 100 hectares of arable land, and where 90% of the land is inaccessible mountain range, only a couple of farmers (mainly lifestyle farmers) are trying honeybush on the side to see if it will work.
Fourie says that they are aiming at between 4,5 million and R5 million revenue this year, which is about 50% of production capacity. R10 million revenue is their viability target.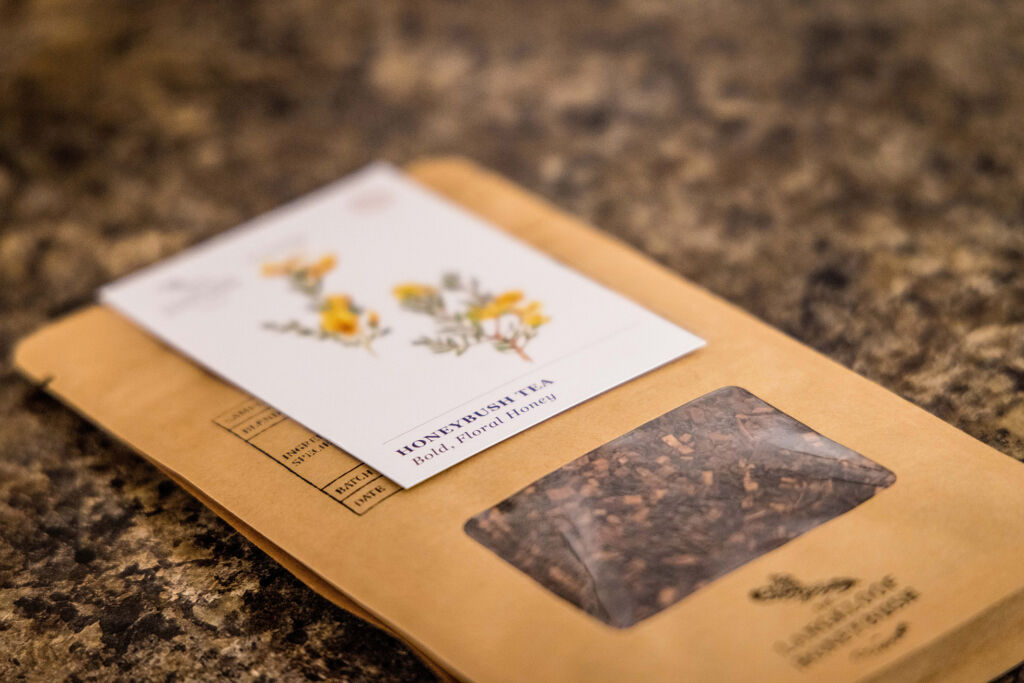 Harvesting is done by teams of locals workers, who work seasonally on the apple farms, and for whom wild honeybush harvesting provides out of season unemployment. "The teams are trained, equipped with tools such as secateurs, and each harvester is paid R5/kg. A typical harvester can do at least 40kg/day, but will often do three times that. March to August is the harvesting season, so we're going full tilt at the moment," says Fourie. "It looks like it's going to be a good season. We've had good summer rains, and we've recovered from the fires of three years ago, which burnt out lots of fresh honeybush. We have also now added eight farms on top of six current farms for wild harvesting".
Fourie says "we aim for a win-win business model where we don't have to sacrifice one thing to make a profit, not environment versus people. Everyone has a benefit: the farmers, harvest team, environment, because we don't steal from one aspect to boost another. It's not purely profit-driven; we do aim for a good bottom line but it's not the only motivation".
Respect for people is evidenced by the Honeybush Company's participation in the Nagoya Protocol, which ensures that a fair share of the benefits of indigenous resources are allocated to indigenous groups. "Honeybush is seen as a traditional medicinal plant," says Fourie, and that traditional knowledge is owned by the Khoisan people. "We, along with one other honeybush company, will sign access and benefit sharing with the Khoisan council, which has a financial-share element, and a  non-monetary benefit which includes training in sustainable harvesting and cultivation, which will provide jobs.
Honeybush tea itself, offers health benefits too. Many people drink it, apart from its honeyed flavour, to help them sleep, and some research suggests that honeybush's antioxidants may be anti-inflammatory and good for heart health. Some research also suggests its potential to boost good cholesterol, and strengthen the inner lining of blood vessels.
All in all, it's a sweet deal.
Yves Vanderhaeghen writes for Jive Media Africa, science communication partner to OGRC.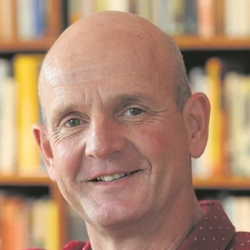 Latest posts by Yves Vanderhaeghen
(see all)