Keen to save rhinos? Focus on their rear ends – not their horns – says veteran conservationist.
Amid the increasingly bloody poaching conflict, a more nurturing approach is required to further rhino conservation, says a former head of conservation at SANParks.
A name change at the age of seven gave Hector Magome the steel to face life's battles on his journey to become a leading rhino conservationist.  
When the going gets tough, 62-year-old Magome likes to remember his mom, and how, when he was a boy of seven, she gave him a new name.
"She sat me down, touched both shoulders and said: 'From today you are Hector. Don't let anyone call you by your old name'."
Hector, of course, recalls the mythical Greek hero of the Trojan War, a warrior revered for his bravery and honour. The name means "steadfast" or "holdfast".
Magome describes his mother – who as it happened loathed her own name, Lettie – as both "an ordinary maid in Johannesburg during South Africa's apartheid era" and a "fierce matriarch".
She was a woman feared and respected by the family, including her own parents.
"She had that aura of authority and the wisdom to know the power of a name," says Magome. "My mother went on to tell me that I was destined for great things… She died two years later, but those words have stuck in my head. They have always helped me to take on many of life's battles."
And battles aplenty, there have been for Magome.
The former head of conservation at South African National Parks (SANParks) has endured the boardroom kind, which led to his ousting on "spurious grounds", faced up to the fight against rhino poaching, and overcame poverty in his own personal struggle to make it in the world.
Wide approach
On the conserving rhinos, Magome believes a wider approach is needed and he will be explaining how at the 12th Oppenheimer Research Conference, in Midrand from 4 to 6 October.
The annual conference has grown since 2010 to become an important event on the global academic calendar, showcasing innovative research in the environmental and natural sciences.
Magome, who is one of conference's key presenters, will reflect on a lifetime's work on the frontline of protected area management, the surge in rhino poaching and wildlife trafficking over the past decade, and how state and private sector partnerships can combat wildlife crime.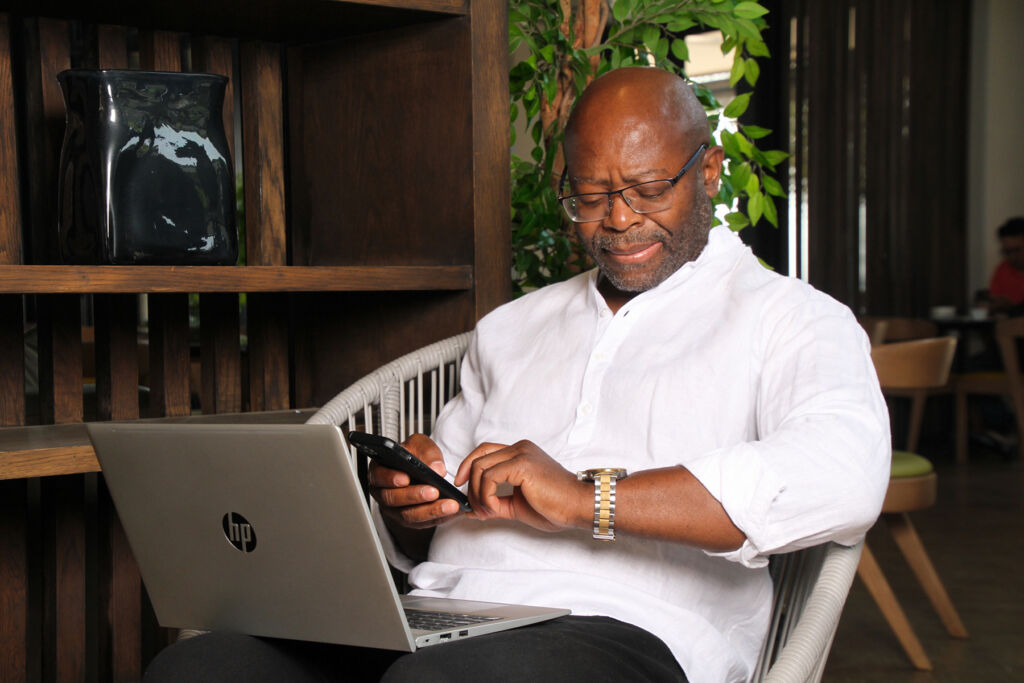 Magome shares the vision of the Species Survival Commission of the International Union for Conservation of Nature (IUCN) that wild African rhinos will thrive across the continent – if given the space, and protection, to do so.
He is encouraged by latest statistics from the IUCN' s African Rhino Specialist Group (AfRSG) showing that rhino poaching abated within most African range states in 2022.
According to the AfRSG, the overall poaching rate on the continent is now below the 3.5% threshold above which populations will decline.
"And let's not forget," says Magome, "that all the white rhinos we have in South Africa today grew from fewer than 100 rhinos in the 1950s."
At the CITES 19th Conference of the Parties (CoP19) in Panama last year, the AfRSG reported that by the end of 2021, there were more than 15,024 rhinos (2,056 black rhinos & 12,968 white rhinos) in South Africa, making up 68% of the total of Africa's free roaming rhino population, estimated at 22,137.
Rhino populations have since gone up by more than 5%, says the AfRSG in a soon to be released report.
Even amid the devastating poaching scourge, the AfRSG predicts that rhino populations will continue to increase in the various range states across Africa, in particular Namibia, Kenya, Mozambique, Botswana, Tanzania, Malawi, South Africa, and possibly Zimbabwe and Uganda.
But in South Africa, the poaching challenge has proven difficult to solve, says Magome.
When Magome joined SANParks in 1996, there were about 10,000 white rhinos in the Kruger National Park. Today there are barely 2000 white rhino left in Kruger.
Dismayed
Magome is dismayed by the failure of the state to protect rhinos in national and provincial parks.
"All poachers know that the will to protect rhinos is low," says Magome. This is to be expected when "our law enforcement officers can't even protect women and children."
And he is particularly concerned about how vulnerable white rhinos are to poaching.
Unlike its cousin, the black rhino, which is aggressive and dangerous, white rhinos are "sitting ducks for bullets", says Magome.
Bumbling giants
"They are bumbling giants that even ardent big game hunters should find repugnant to kill," says Magome. "They tame quick, live in open areas, and do not run away (from people), so are easy pickings for poachers."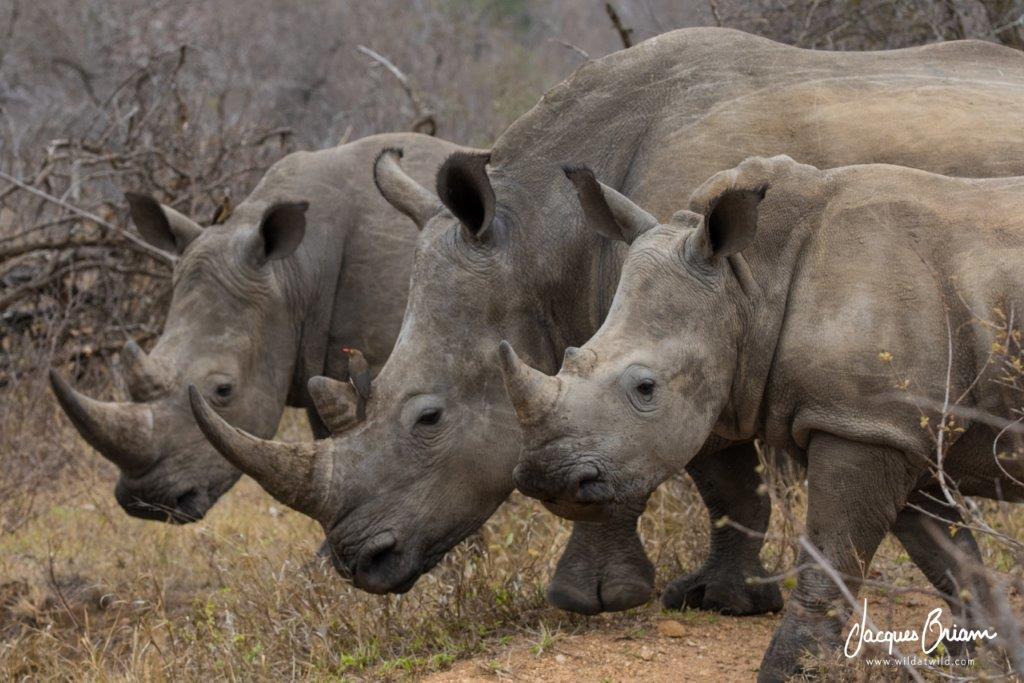 Relocation drive
Faced with the poaching onslaught that was decimating white populations in Kruger when he joined SANParks, Magome began moving many white rhinos to private game reserves more capable of protecting them.
"You don't fortify your house or property to fight a hurricane, you evacuate your valuables… The only solution was to move many rhinos to safer areas — a salvage operation," says Magome.
By 2014, Magome had overseen the relocation of more than 1500 Kruger white rhinos to private game farms where they served as breeding stock.
Then, amid plans to move an additional 250 rhinos out of Kruger, "puffed up chameleon egos took over", says Magome.
"I was pushed out on spurious allegations of not having the authority to sell the 250 white rhinos… The SANParks board later withdrew the charges, paid me out, and asked me to leave."
He moved on from SANParks, undaunted by media reports claiming he had acted improperly in overseeing the deal.
Rhino havens
"At the end of the day, I was proud of the role I played in helping establish rhino breeding programmes on private game reserves," he says. "They have become an increasingly critical haven for the species, and today support the largest number of white rhinos on the continent."
Today, private game farms and communal lands conserve more than 50% Africa's rhino population.
Magome says the sale of these rhinos had also helped SANParks buy up farming land to increase the size of national parks to make them ecologically viable.
"Over a million hectares were added to SANParks. That was easy. Commercial farmers are businessmen who sold land when money offers were good."
Controlled hunting
On concerns that some private game farms that bought Kruger's rhinos were involved in the sports-hunting industry, Magome, and the AfRSG, note that there are more black and white rhinos today in countries that allow controlled recreational hunting than in countries that don't.
Although Magome is not an avid fan of big game hunting –  "personally I would never want to hunt rhino, elephant or lion" – professional hunting does contribute significantly to conservation, says Magome.
Without this revenue source private rhino farmers and game reserves would lack the financial incentive to keep wild animals, says Magome.
He said this had already happened in the case of the largest white rhino farmer, John Hume. "He recently sold about 2,000 rhinos to retire from rhino conservation", say Magome.
 Life journey
At the time Magome left SANParks, it had already been quite a journey for the boy from Bapong – "a village between Brits and Rustenburg, in the North West Province, where the Marikana Massacre took place."
Magome describes his childhood, one of 10 siblings, as tough.
The family survived on a little state pension from his grandparents and "a penny here and a pound there" earned by his grandparents, working for others in the village.
"I was the only boy among the children. As a result, I was raised to do all the things that girls could do. That made me independent by the age of 12, and I was soon taking on part-time jobs after school, including garden work or picking crops for neighbouring white farmers."
"After I matriculated in 1981, I worked for a year to save enough money for first-year studies in BSc (Education) at the former University of Bophuthatswana."
Diligence
"I knew that I was good enough to secure a bursary to complete my studies," says Magome.
He says his diligence ultimately attracted the attention of biology Professor Michael Parr, who encouraged him to study wildlife and nature conservation.
"After getting my degree in, Prof Parr designed a full-time BSc Honours programme for me. Assisted by three mentors, I conducted research into grasses and the feeding habits of the white rhinoceros. Those field trips instilled in me an undying love for nature," says Magome.
Mentors
These role models and other mentors helped Magome complete two, overlapping MSc degrees. One was at Wits University, studying the habitat selection and feeding behaviour of the sable antelope in Pilanesberg. The other was an MSc in Wildlife Biology at Colorado State University in America, financed by a USAID Equals Opportunity Study Gant.
"Armed with two MSc degrees, I earned myself the unfortunate title of being called the first black South African to become a wildlife ecologist in 1991," laughs Magome.
That year, Magome became part of a team that converted 60,000 hectare cattle farms into the Madikwe Game Reserve in the North West Province.
He went on to serve as acting chief executive of formerly Bop Parks before joining SANParks in 1996.
While at Acting CEO of Bop Parks, he arranged for the first five white rhinos to be translocated (by road) to Khama Rhino Sanctuary in Botswana.
Soon after joining SANParks, he helped move 30 white rhinos from SANParks into the Okavango Delta, and they too have increased to over 2000.
Through this, and other efforts, Botswana became home to a significant white rhino population, says Magome.
After SANParks, Magome spent a year in Cameroon, followed by two years in Malawi and Zambia, where he was inspired by what had been done to combat wildlife crime.
Malawi, once considered a capital for trafficking wildlife products, had effectively addressed wildlife crime within four years through partnerships between the state and various non-profit entities.
"Poachers and traffickers were snowed under by an avalanche of multi-sectoral teams. This included changing policies and laws, through to working with the police at crime scenes to help secure prosecutions," says Magome.
"Arrests were followed with poachers spending time in jail. No deterrent is stronger than spending time," says Magome.
In stark contrast, in the decade from 2013 to 2023, South Africa's criminal justice system has let poachers and traffickers kill rhinos and traffic their horns with relative ease, says Magome.
The same applies to other environmental crimes, ranging from daily eyesores of littering to serious water pollution affecting the entire South African landscape.
Private prosecution
Against this backdrop, Magome says he was encouraged by the ground-breaking private prosecution and conviction in 2019 of British Petroleum SA for building 17 fuel stations in Gauteng Province without proper environmental assessments and authorisations.
The case against BP was initiated by a small legal entity, Uzani Environmental Advocacy CC, set up by a lawyer, Gideon (Kallie) Erasmus. It was the first ever successful private prosecution in South Africa of an oil giant for environmental offences using our environmental laws.
"Through Uzani, Gideon demonstrated that private prosecution can indeed complement the State in fighting environmental crimes. The battle is not lost, and the war can be won."
Currently, the dehorning of rhinos is among strategies adopted curb to rhino poaching in South Africa.
But dehorning is not fool proof – even dehorned rhinos fall victim to poachers, says Magome. Neither is fortress-styled protection a viable long-term solution due to costs.
Reducing the demand for horns is key, says Magome, who is likely to elaborate on this the forthcoming 12th Oppenheimer Research Conference.
And he may well quote Richard Emslie, a rhino expert for the IUCN's Species Survival Commission.
Emslie describes anti-poaching efforts as a focus on the front of rhinos (to save their horns) as opposed to a focus on the rear of the rhinos (where they push out calves).
"Focusing on their rear means moving them to areas where they can safely breed," says Magome.
"And if we improve policing technology, work with law enforcement officers on collecting evidence on arrests, on sentencing, and on monitoring convicted rhino poachers (after their release from prison), we could significantly reduce poaching," he says.
"What we need is focus, sheer will and determination to change bad situations.
Rhino poaching on the wane since 2015
There has been decrease in rhino poaching in Africa from 2015 through to the end of 2022. This is according to a report soon to be released by the African Rhino Specialist Group (AfRSG) of the International Union Conservation of Nature (IUCN).
The AfRSG has also reported an increase in African rhinos from 22,137 at the end of 2021 to about 23,000 at the end of 2022. These statistics are due to be released on World Rhino Day (September 2023).
Click here to view the latest available statistics.
This article was written by Fred Kockott and Matthew Hatting for Jive Media Africa, science communication partner to Oppenheimer Generations Research and Conservation.
Main image credit: White rhino mother and calf. Mothers poached means calves orphaned – only the lucky ones survive (Photo Leon Molenaar/ Flickr)
Latest posts by Fred Kockott
(see all)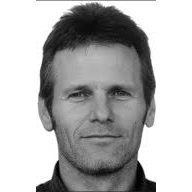 Latest posts by Matthew Hattingh
(see all)