Mavuso Msimang: Fighting for the greater good
If there is a dictum which sums up Mavuso Msimang, it's "Do the right thing!"
Most recently he has suggested that President Cyril Ramaphosa bungled his handling of his Phala Phala farm scandal, and that the right thing for him to have done would have been to step aside until the full truth of the matter was settled.
It is not surprising that as a former chairperson of the board of Corruption Watch, Msimang should be so outspoken on the subject. In an online commentary on the triumph of the Jacob-Zuma aligned Taliban faction of the ANC in KwaZulu-Natal, the province of his birth, Msimang said "it's unthinkable that any leader would pronounce himself unconcerned by the imperative to uphold what is morally good and right. He added: "Conversely, how would anyone be unconcerned by the violation of what is morally good and right?
Every organisation that works in the social, political, legal, cultural, business, sport, religious and other spheres operates a step-aside and step-down rule code of conduct, whatever its name. In enforcing their codes of conduct, such organisations are primarily guided by ethical and moral considerations, not legal ones."
This is a standard Msimang has applied to his own endeavours from politics to conservation.
Msimang will be one of the plenary speakers at the 11th Oppenheimer Research Conference in Johannesburg between 5th and 7th October 2022, a conference which showcases natural and environmental sciences, and conservation and sustainable development in Africa.
He is widely recognised as a change agent and his contribution to conservation has been extensive. In 2018 he received the WWF South Africa Living Planet Award for his good works, in South Africa and beyond. It should be noted that he has made significant contributions in other sectors.
Apart from having served as CEO of the South African National Parks, and being a co-founder of the successful NGO African Parks, he was also head of the South African State Information Technology Agency (SITA), and Director-General of the Department of Home Affairs.
In each of his roles he has been responsible for overhauling operations through technical reorganization (especially at Home Affairs), but also through validating and uplifting staff.
While he has stepped away from his leadership roles, he is still a member of the WWF and WESSA, among others, and as his interventions in the political debate show, he is keeping a close eye on affairs.
His strongest interest at the moment, apart from politics (which is to be expected from someone who joined MK and went into exile for 30 years), is concern around "vanishing biodiversity, especially in so-called conservation areas.
There is a real concern among conservationists that most national in the continent have become nothing but 'paper parks'. "Biodiversity is under serious threat," he says.
"Population densities have gone haywire, and global warming is not assisting very much given our (in)attentiveness. I'm not comfortable about where it is all going. We need to urgently create public awareness about the erosion of biodiversity.
There are stresses at many levels, says Msimang. He laments that "by and large governments pay lip service to conservation".
"Maybe they have other priorities," he suggests diplomatically, although "there is worrying ignorance about the importance of nature in our livelihoods, at either governmental or the popular level."
But he acknowledges the complexity of the subject, and why priorities may differ. "Poverty is our unhappy reality in most African countries.
Overpopulation and a lack of affordable living spaces sometimes leads people to engage in acts and activities that can be detrimental to nature conservation."  
These stresses have a bearing on the ructions that have taken place at, for example, iSimangaliso Wetland Park on the north coast of KZN. Lake St Lucia, which is in the state-run conservation area, is home to large numbers of hippos, crocodiles, pelicans and flamingos, and elephants, giraffes and leopards inhabit the grasslands and forests.
Last month (August) a large group of people invaded the Futululu Forest, which falls under iSimangaliso, demanding land for farming and residential development.
"If people are denied their basic human  rights such as shelter, employment opportunities and access to adequate health services, we cannot reasonably blame them when they take things in their hands and build shacks and make firewood from endangered plant species.
Continuing with threats to iSimangaliso Wetland Park, Msimang notes how human activities around the wetland park, such as farming, grading, removal of vegetation, construction and other human activities "pose an ominous danger to the wetland park's wide range of pristine marine, coastal, wetland, estuarine, and terrestrial environments. "
He insists that "biodiversity can be used for development". Noting that South Africa is one of the most biologically diverse countries in the world, Msimang says "the scope for assessing the number of jobs related to biodiversity is found in the definition of the 'biodiversity economy' used by South Africa's Department of Forestry, Fisheries  and Environmental Affairs."
It describes biodiversity as "encompassing activities that either directly depend on biodiversity for their core business, or that contribute to conservation of biodiversity through their activities."
The first attempt to assess the number of biodiversity-related in the country captured more than 418 000 jobs, which compares to the number of people in the mining industry.
Keeping waters clean has a direct benefit to people, as does appropriate agriculture which does not contribute to erosion and soil degradation, he says. Rural areas, and communities in proximity to parks, are not sufficiently protected from these ravages, says Msimang, and he singles out the lack of rehabilitation of damage caused by mining in particular. Not only conservation gets disadvantaged by this, but often people in these areas too, he says.
Msimang believes that business has a big role to play. The title of his presentation to the ORC is "What does it mean for an economy to embrace the power of nature?", and he argues that "more protected areas are not only good for the planet, but also for business."
He says that "if Africa chooses to unlock the power of nature by embracing wildlife economies, it will create unparalleled business value for the continent. There is evidence of the economic value of nature already being generated by self-sustaining biodiversity initiatives in Africa.
Unfortunately, climate change is having unprecedented impact on the continent. Funding mechanisms currently in place need to be revised to hold countries who are the largest emitters accountable for their contribution to global GHG emissions. These countries should be funding biodiversity gap in partnership with African governments, to mainstream environmental protection within their budget and financial planning."
Even so, "it remains important to balance social equity and rural job creation, ensuring a strong focus on meaningful inclusion of Indigenous Peoples and Local Communities rights and ownership to intellectual property, land and economic opportunities. In light of this, safeguarding conservation measures will help develop and protect the future of Africa for future generations".
But, ever the optimist, Msimang is effusive about areas where there has been success. "Only recently, thanks to lots of work done by SANParks and the Peace Parks Foundation, black rhinos were sent to Zimbabwe and Mozambique, reintroducing this species back into those areas".
He cites the 22 African Parks (encompassing 30 million hectares across Africa) as "islands of conservation", and lauds successes in Zambia in boosting wildebeest populations, thanks to recognising communities living adjacent to conservation areas as stakeholders who benefit from jobs generated by park activities and from training.
In the Democratic Republic of Congo, in the face of warring militias, elephant populations have been rescued from eradication.
Conservation, says Msimang, has short-term benefits although it is essentially about the long term. He says that politicians tend not to be interested if there is no immediate benefit to a course of action. He says affected constituencies need to be strengthened and to lobby for their interests. Ultimately, "a lot rests on community inclusion  …. Those who are impacted by biodiversity management must be involved in decision making at park board level.
Added to this, Msimang, giving credit where he believes it is due, said initiatives such as the Rural and Township Economies Revitalisation Strategy and the Radical Agrarian Socio-Economic Transformation Programme will help in addressing the underlying conditions which place the most acute stress on conservation and biodiversity.
The 11th Oppenheimer Research Conference takes place between 5th and 7th October 2022 in Midrand, Johannesburg. The Oppenheimer Research Conference (ORC) showcases cutting-edge, innovative scientific research and provides a platform to foster engagement and dialogue. By so doing, it contributes African voices into global conversations on environment and sustainability.  The 2022 conference is fully booked, but there will be some livestreaming. Keep an eye on the Oppenheimer Generations Research and Conservation website for more details.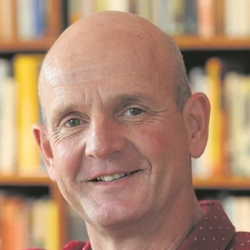 Latest posts by Yves Vanderhaeghen
(see all)
Image credits
Wakefield cattle - Michelle Tedder.jpg