Snap shots from 11th Oppenheimer Research Conference
The Oppenheimer Research Conference creates a platform for researchers and practitioners in conservation sustainability to share their knowledge to increase its impact. Here are a few snap shots of presentations.
Meghan Callista van Zyl: Assessing androgen cycles in male southern right whales (Eubalaena australis) through baleen analysis
Can testosterone in male southern right whales provide a clue to their reproductive cycles and how populations are recovering from the impacts of whaling?
Van Zyl's research is the first look at testosterone (the male reproducive hormone) in male southern right whales, and she says that "the more we know about their reproduction, the better we can conserve this large marine mammal".
She says male southern right whales may be sexually active before reaching their coastal breeding grounds, because their androgen cycles peak while they are still at their high latitude feeding grounds.
How did she embark on her research method? "The public, and other researchers, are in the dark about southern right whale reproduction. I presented my work within our department, and one of our professors asked me why I was using testosterone as a proxy for reproductive health (more specifically sperm production). Instead, he said, I can just collect sperm from the whale directly. Although other researchers have collected sperm from mammals through induced ejaculation through stimulation, this is impossible to do on a southern right whale. This is because these animals are huge! So you can imagine how much stimulation it would take to get a 50-ton male whale to ejaculate. Not to mention, how would you collect the sperm underwater? After I explained this to him, it was a penny drop moment. I could see the gears clicking in his head. He subsequently said "oh yes, this is true." Our insight into male reproductive hormones can open up the conversation about these whales, and how they are recovering from whaling, which forced the global population to near extinction."
Van Zyl has always been interested in marine wildlife. The proof lies with a robotic killer whale, a dolphin swimming floatie and many jars full of seashellsproudly displayed on a shelf in her room. But she never imagined that she would study marine mammals. Her plan was to get an art degree. She is extremely happy that that plan didn't work out. She completed her undergraduate degree, as well as her Honours degree in Zoology at the University of Pretoria. Currently she is busy with her MSc degree, at the same university, where she will focus on the feeding ecology of Southern right whales on the west coast of South Africa. She is greatful to have a wonderful supervisor (and director of the Mammal Research Institute, Whale Unit), Dr Els Vermeulen at her side to guide her through it.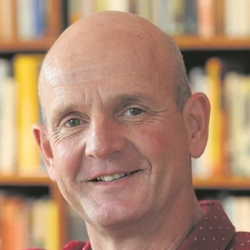 Latest posts by Yves Vanderhaeghen
(see all)
Image credits
Wakefield cattle - Michelle Tedder.jpg