SNAP SHOTS FROM 12TH OPPENHEIMER RESEARCH CONFERENCE
The Oppenheimer Research Conference creates a platform for researchers and practitioners in conservation sustainability to share their knowledge to increase its impact. Here are a few snap shots of presentations.
ANDRE GANSWINDT: THE WILDLIFE COEXISTENCE CONUNDRUM – WHO WANTS (TO) CHANGE?
Urbanisation and changing land use have direct, and sometimes devastating, consequences on the wellbeing of wildlife. Ganswindt, whose area of expertise is wildlife/behavioural endocrinology, argues that the single most worrying environmental and conservation challenge facing Africa is, in fact, land transformation. His presentation to the conference will focus on anthropogenic factors and their stress-associated endocrine responses in wildlife. His call to action, however, will be that his research should promote "an honest self-reflection regarding a person's willingness to change". He notes that even though there is ample research on the big environmental questions facing humanity, and there are more than enough studies on how to get out of our jam, there is little evidence of a collective global buy-in to solve the problems. He believes that increasing awareness of a mindful work-life balance can counteract global resource exploitation. The importance of the conference for Ganswindt is that it provides an excellent platform to engage and discuss wildlife-related topics with colleagues from other disciplines to promote an inclusive approach for complex challenges.
Professor Ganswindt is Director of the Mammal Research Institute at the University of Pretoria. He is a member of the Academy of Science of South Africa and a fellow of the Royal Society of South Africa. He also holds the Oppenheimer Chair for Emerging African Scientists in Non-invasive Wildlife Research.
Image credits
Wakefield cattle - Michelle Tedder.jpg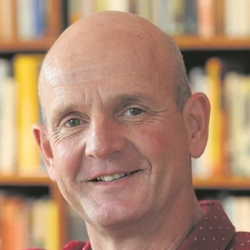 Latest posts by Yves Vanderhaeghen
(see all)