SNAP SHOTS FROM 12TH OPPENHEIMER RESEARCH CONFERENCE
The Oppenheimer Research Conference creates a platform for researchers and practitioners in conservation sustainability to share their knowledge to increase its impact. Here are a few snap shots of presentations.
MARIA MAKWELA: HOW INFORMATIVE IS THE RESPONSE OF CARABID BEETLES' ASSEMBLAGES TO AGROECOSYSTEM MANAGEMENT PRACTICES?
If you want to measure the ecological health of your farm, look for the carabid beetles, say Maria Makwela, Rob Slotow and Caswell Munyai. The number of species disappearing from the planet as a result of human activities is rapidly increasing, and to counteract the harmful impact on biodiversity "we must take better care of the agroecosystems, or ecosystems, where we grow our food", says Makwela. She proposes using carabid beetles as bioindicators to assess how well these agroecosystems are managed and how they affect biodiversity. They are abundant in agroecosystems and play an important role in their functioning. "They are extremely sensitive to any changes we make on the farm, much like the canaries in the coal mine," says Makwela. She advocates implementing sustainable management practices, such as conservation farming, which can increase carabid beetle diversity and abundance, and this in turn contributes to better pest management, increased soil fertility, and overall agroecosystem resilience. "These important concepts bridge the gap between ecological study and practical agricultural applications," she says, and can guide agricultural practices toward sustainability, resilience, and harmony with the natural world.
Makwela is a PhD student at UKZN, focusing on the status and functionality of epigeic arthropods in South African grain agroecosystems.
Image credits
Wakefield cattle - Michelle Tedder.jpg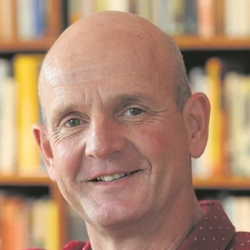 Latest posts by Yves Vanderhaeghen
(see all)