SNAP SHOTS FROM 12TH OPPENHEIMER RESEARCH CONFERENCE
The Oppenheimer Research Conference creates a platform for researchers and practitioners in conservation sustainability to share their knowledge to increase its impact. Here are a few snap shots of presentations.
MIKE MUSGRAVE: A BIODIVERSITY INVESTMENT RESEARCH AND ADVISORY SERVICE FOR AFRICA.
We need to spend around $700 billion on biodiversity conservation to make a difference. Mike Musgrave, Devang Vussonji and Ravinder Sikand argue that money can only come from the private sector and therefore the biodiversity conservation industry needs to engage with the private sector in language they understand.
Funding is a major challenge facing conservation in Africa, and Musgrave wants his research to direct flows of private capital into conservation. Business is getting the message. Musgrave remembers describing to an investment professional "how increasing biodiversity in a landscape could result in increasing asset value if we placed a value on biodiversity, and he instantly understood how biodiversity could become part of financial transactions". The Kunming-Montreal protocol has galvanised large corporations around the world for the need to be nature positive. Business now fully understands how biodiversity loss represents an economic loss and a risk to future profitability. Now, however, there is a need for commercially minded, scientifically trained conservationists "to help align the metrics around biodiversity conservation with the materiality of the impacts of large corporations so that ecosystem function is maintained".
Musgrave holds a PhD in Sustainable Development. A background in business, consulting and research informs his use of different disciplines to synthesise the problems around sustainable development and natural resources in Africa. He is currently a member of the Conservation Leadership Faculty in the School of Wildlife Conservation at the African Leadership University, working on biodiversity investment and nature based solutions.
Image credits
Wakefield cattle - Michelle Tedder.jpg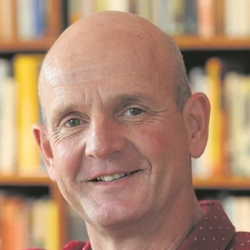 Latest posts by Yves Vanderhaeghen
(see all)