SNAP SHOTS FROM 12TH OPPENHEIMER RESEARCH CONFERENCE
The Oppenheimer Research Conference creates a platform for researchers and practitioners in conservation sustainability to share their knowledge to increase its impact. Here are a few snap shots of presentations.
NOZIPHO KHUMALO: IDENTIFICATION OF TICKS AND TICK-BORNE PATHOGENS USING ARCHIVED SAMPLES
Ticks may provide insights into epidemic diseases lurking around the corner. However, their role in the epidemiology of zoonotic diseases in South Africa is not well documented, according to research by Mamohale Chaisi, Nozipho L. Khumalo, Kim Labuschagne and Maphuti Ledwaba.
Khumalo notes that "we recently had an outbreak of COVID, and we did not know where it originated from. A number of assumptions have made the rounds, but we are still uncertain. We need to come together with other disciplines and work together to prevent future outbreaks". Her research shows that wildlife species harbour a number of tick species that carry pathogens of veterinary importance and that they may be reservoirs of these pathogens. Her research helps understand what kinds of illnesses ticks can spread and how they can affect people. She says even though the ticks they have studied were collected a long time ago and stored, "we can still learn useful information from them. This can help with monitoring diseases, helping with conservation efforts, and protecting both humans and other animals".
Her current research centres on vectors and vector-borne pathogens "In a recent project, we conducted a study involving the collection of ticks and blood samples from felids within a privately owned reserve. During this study, we identified pathogens in several felids, including some that could potentially result in fatalities. The outcomes of our research have played a pivotal role in enhancing both animal well-being and the management of vector populations within the reserve".
Khumalo is an animal health technician in wildlife health ecology and management at the South African National Biodiversity Institute (SANBI).
Image credits
Wakefield cattle - Michelle Tedder.jpg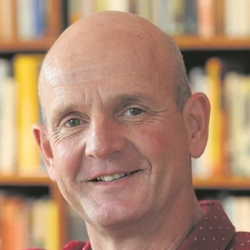 Latest posts by Yves Vanderhaeghen
(see all)