SNAP SHOTS FROM 12TH OPPENHEIMER RESEARCH CONFERENCE
The Oppenheimer Research Conference creates a platform for researchers and practitioners in conservation sustainability to share their knowledge to increase its impact. Here are a few snap shots of presentations.
SALISHA CHANDRA: SHIFTING POWER TO ACCELERATE CONSERVATION IMPACT IN AFRICA
Indigenous peoples and local communities play an outsized role in the fight against climate change and in the protection of biodiversity. While there has been growing recognition of the importance of these local actors, there continue to be significant barriers to them sustaining their ways of being, practicing conservation and having impact. Bringing visibility to these challenges and barriers, and mainstreaming these difficult discussions are important to shift the systems in their favour so that they can get better partnerships and more equitable and appropriate funding. Addressing climate change, conserving biodiversity, securing indigenous and community land rights, and fostering more resilient livelihoods in rural communities across Africa all depend on action by community-based organisations. Yet they struggle to grow or increase their impact due to barriers in participating in relevant conversations because international NGOs occupy a lot of this space. They are also starved for funding: globally, indigenous peoples' and local community organisations and communities receive less than 1% of all climate funding, while African organisations receive only about 5% to 10% of private philanthropic funding invested in Africa. While local organisations recognise the importance of partnerships with INGOs they also know how challenging they are and the barriers they present to their own voices, agency and influence. Chandra, Monicah Mbiba, Fred Nelson and Resson Kantai Duff want their contribution to the conference to "generate and influence movement towards equitable strong partnerships for local civil society organizations to have more power, influence and agency".
Salisha Chandra is a strategic initiatives coordinator at Maliasili and has a Masters in conservation leadership from the University of Cambridge. She dubs herself a rebel with too many causes: activist, conservationist, adventurer.
Image credits
Wakefield cattle - Michelle Tedder.jpg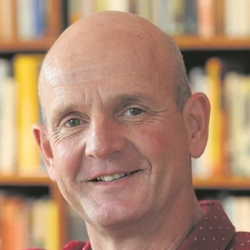 Latest posts by Yves Vanderhaeghen
(see all)