Wild Food and Rewilding African Landscapes
Dr Francis Vorhies, Director of OGRC partner initiative, the African Wildlife Economy Institute, comments on how AWEI is exploring the potential for wild food to deliver a range of benefits to people and planet.
At the African Wildlife Economy Institute (AWEI), we are exploring how the wildlife economy can support the restoration or rewilding of African landscapes and, in so doing, deliver biodiversity conservation, climate resilience, rural livelihoods, and community well-being.
Perhaps the best-known example of a wildlife economy product in Africa is wildlife-based tourism. This product is offered across the continent by national parks, community-managed conservation, and private reserves. However, the Covid-19 pandemic made clear that overdependency on tourism is risky – both for conserving wildlife and for maintain rural livelihoods. The Covid-19 experience has been a wakeup call about the need to diversify the production of wildlife goods and services.
A promising area for diversification is wild food. At AWEI, we are exploring opportunities for scaling up the production and sale of food from both wild fauna and flora. Formal and informal provision of wild food can be found around the continent with marine and freshwater fish as perhaps the most common example. There are also excellent opportunities for wild food from other sources. Also, where tourism services a higher need for recreation – often for foreign visitors – wild food can service a widespread basic need of millions of African for nutrition.
Wild food can be sourced from harvesting fauna and flora in protected and rewilded areas to both provide for basic needs and to diversify the uses and revenue streams from conserving wildlife in these areas. For example, rewilded landscapes across Africa could supply meat harvested from wild ungulates of which the continent has an amazing diversity – elephant, hippo, buffalo, impala, giraffe, kudu, oryx, zebra, warthog, wildebeest; to name a few.
There is actually official international policy guidance for a sustainable wild meat sector agreed to under the UN Convention on Biological Diversity. Its recommendations, which are important topics for AWEI research, include rationalising "wildlife laws to focus on sustainability [and] to encourage legal, sustainable and traceable trade;" and promoting "responsible consumption of certified sustainably sourced wild meat [that] can highlight benefits such as sustainability, local community livelihoods, conservation impact, and health."
Further, there is evidence that promotion of a wild meat sector will actually support rewilding of landscapes – making it a win-win proposition. In a recent paper on trophic rewilding, the authors noted that:
"There are massive opportunities to reform the current livestock industry and rewild our rangelands by replacing, at least a proportion of domestic ruminants with native megafaunal communities…. The rewilding of rangelands requires a major paradigm shift and rethinking of the world's meat consumption and provisioning… However, for certain parts of the world it could already be a realistic alternative, including large stretches of communal grazing areas in Africa… This could also include mixed strategies, where part of the domestic stock is replaced with wild megafauna."
Developing the wild meat sector in Africa will also help to mitigate climate change. A recent paper on wild meat consumption in Latin America noted that wild meat sector is more climate resilient than the livestock sector:
"Replacing wild meat consumption by forest dwellers across the tropics with domesticated animal protein sources would massively increase the global human carbon footprint through additional emissions from the livestock sector… Maintaining healthy tropical forest game populations that can ensure sustainable wild meat consumption is an important piece of the climate change mitigation puzzle in developing countries."
At AWEI, we are exploring how to scale up sustainable value chains in the wild meat market that contribute to positive environmental, economic, and social outcomes. These value chains start with wildlife production systems at the landscape level. The next step is harvesting and hunting activities. This leads to wild meat processing which ultimately leads to products for consumers.
Through the wildlife economy, landscape rewilding is directly linked to the basic need for nutrition. Hence, in addition to offering recreational services, conservation areas – public, community, and private – could be enhancing community well-being across the continent through the provision of wild food. At AWEI, we see the development of a wild food sector in Africa as a promising way to align the restoration and conservation of Africa's wildlife with the needs of Africa's communities.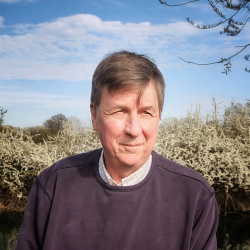 Latest posts by Francis Vorhies
(see all)