Weaving with weeds: Using invasive species to save the environment and create jobs in a sustainable manner
Originally from South America and today found in more than 50 countries on five continents, Eichhornia crassipes, commonly known as water hyacinth, is an extremely aggressive aquatic invasive species able to double its biomass in as little as a week. It degrades the ecological systems of rivers and dams, chokes up watercourses, causes flooding and affects people's ability to access and use water resources. Tumi Mphahlele has, however, found a way to turn one of the "100 of the World's Worst Invasive Alien Species" from a destructive pest into one with an ecological and economic purpose through her innovative Thekga business venture.
Coming from a lineage of strong matriarchs and inspired by a generation of entrepreneurs, Tumi Mphahlele has always been driven to respect and protect the greatest dame of all – "Mama Earth". 
Her keen interest in specifically water conservation started when she was working for EMgro Natrology, whose business concern was manufacturing effective micro-organisms as a biological solution for sanitation, water treatment and agriculture. It was during a site visit in 2012 to the Nooitgedacht Dam at Morula Sun outside of Pretoria she first "met" water hyacinth.
Says Tumi:
"Many people speak of love at first sight, however in my case, I had mixed emotions, a combination of magnetism and apprehension. I felt drawn to the plant yet at the same time challenged to find a way to have it removed and find a purpose for it in order to conserve our water resources."
At the time (2012), the management of Morula Sun shared Tumi's eagerness to address the problem with a sustainable solution, indicating they were keen to use water hyacinth as compost. However, legislation made no provision for its beneficiation or harvesting, with the Department of Environmental Affairs informing Tumi the management method was chemical through the use of chemical herbicides sprayed with the use of helicopters.
Through attending various special interest talks held by Strilli Oppenheimer at Little Brenthurst, Tumi established contact with Dr Duncan MacFadyen of Oppenheimer Generations Research and Conservation (OGRC). He encouraged her to pursue her interest in water hyacinth.
"His vote of confidence gave me the courage to knock on the doors of the Department of Environmental Affairs and try again. In 2020 I was given a transportation permit with respect to water hyacinth. I was also invited to join the Blu Deal Partnership as a member of the local economic development committee, securing the business rights to the biomass. Under Dr MacFadyen's mentorship, the project began to form roots."
Fast forward 10 years to February 2022 and the birth of Thekga, a range of handmade products, woven from around 200 tonnes of water hyacinth harvested each month from the Blesbokspruit Wetland situated on the East Rand.
The products include a wine basket, lamp, serving tray, pet nest, baby changing basket and desktop organiser set. Recycled iron is used for structural reinforcement while recycled plastic bottles are used as fabric lining. The products are made by women and artisans from the local community located within the Ekurhuleni Metropolitan Municipality.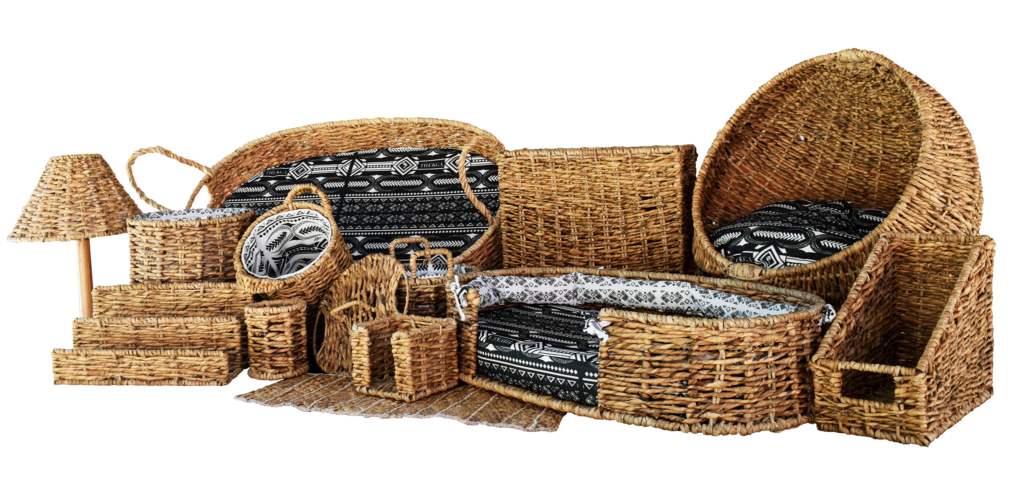 Thekga means "to support" in Sepedi, Tumi's mother tongue. She says it's her mission to change the world one small step at a time through the removal of alien invasive plants and plastic waste.
"Thekga was born through natural progression. I went through a long ideation process, exploring and testing many concepts. Throughout my entrepreneurship journey, I carried with me the three very important elements of economic, environmental and social impact which I learned during my LLB (Hons) studies at Unisa. I felt it was important to build a sustainable business model; I believed the ultimate matriarch Mama Earth ought to be respected and protected as she ages; and to provide for her lineage that she birthed, her children."
Though a labour of love, Tumi says one of the main challenges of her business venture has been market traction concerning hand-made woven products. Due to the current economic climate, Thekga products are considered luxury goods, with a price range of between R420 and R2 220. She hasn't been able to leverage economies of scale through automation as there is currently no industrial technology capable of weaving water hyacinth as a raw material. The division remains niche and will require more investment in research and development for capacity optimisation.
On the upside, an opportunity to venture into the energy sector using water hyacinth and other alien invasive plants has arisen. Thekga has formulated biomass briquettes (also referred to as 'white coal') in preparation for the supply of FMCG operations as a source of biofuel for industrial boilers.
Various factors need to be considered when using an invasive species in an innovative way to manufacture products, create jobs and manage the environment in a sustainable manner. These include supply chain factors such as consistency and reliability of supply; environmental compliance; cost of transport and emissions thereof; product quality, traceability and testing as well as the aspect of commercial sustainability versus ecological sustainability.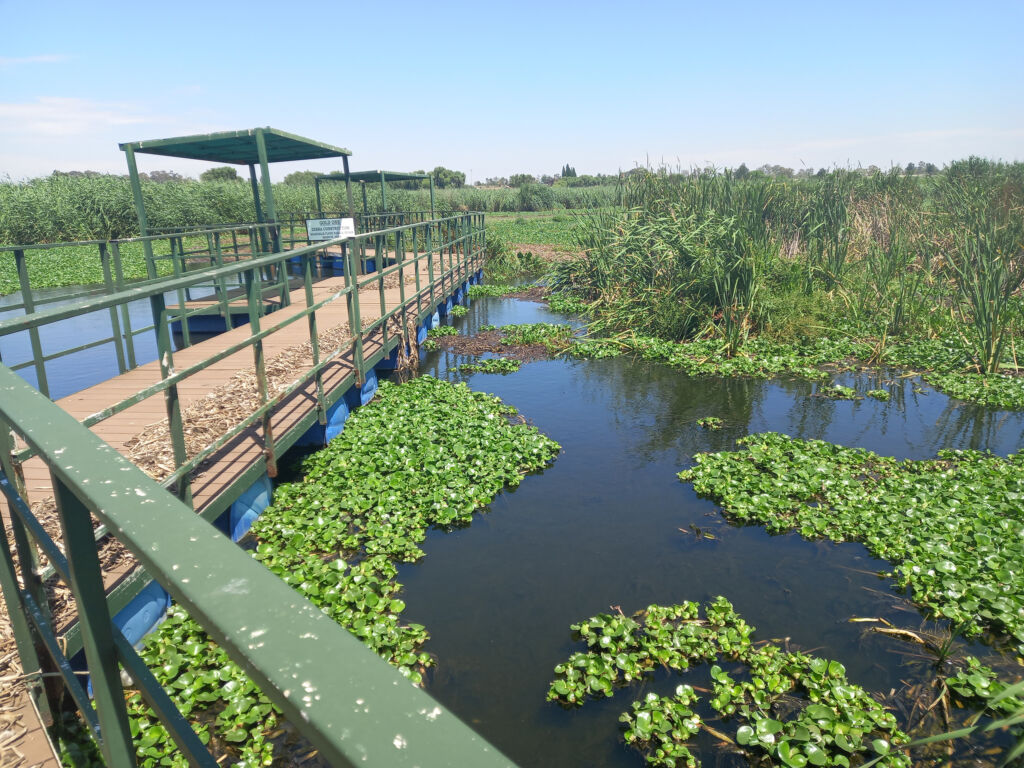 Tumi credits the assistance of OGRC in terms of financial support through the BRO Trust funding and advisory services like compliance, legal and financial management as instrumental in the development and growth of Thekga.
"The contribution that I will carry with me is that of personal mastery. Every time I walk in and out of the boardroom, I always come out of that furnace more refined than I was before going in. That is a priceless opportunity and a privilege. I sincerely hope one day I too can make a difference in the lives of other entrepreneurs the way team Duncan and Rendani (Nenguda) have made in mine."
Mankgodi Hlongwane, a biodiversity and conservation specialist from the Department of Environmental Resource and Waste Management of the City of Ekurhuleni, says the impact of an invasive species like water hyacinth cuts across ecological and socio-economic factors.
Sustainable management interventions are therefore considered ongoing efforts, given the complexity of the problem.
"There is a need for both the landowner and land user to take responsibility in control measures applied. The integrated management plan includes applying mechanical, chemical and biological control methods."
In a paper, "The phytoremediation potential of water hyacinth: A case study from Hartbeespoort Dam" published in the South African Journal of Chemical Engineering (July 2021), the authors state most attempts at controlling water hyacinth have been unsuccessful as a result of the rapid growth rate and costs involved in removing this alien invader. The lowest cost for removal was estimated at R690/ha in 2019.
Hlongwane concurs.
"Researchers estimate that South Africa now loses the equivalent of R6.5-billion worth of ecosystem services annually due to the dramatic expansion of alien invaders. The cost of controlling these species is high and many Southern African countries are poorly equipped for this liability as the process has to be repeated over time. Despite this challenge, there is valuable resource recovery from water hyacinth which can be used to make financial and environmental returns. The utilisation of water hyacinth biomass to make products has a positive socio-economic impact."
In South Africa, the Invasive Species Regulations of the National Environmental Management: Biodiversity Act 2004 (Act no. 10 of 2004) requires the controlling, eradication and management of invasive alien species, of which water hyacinth is one.
According to Dr Romain Pirard, environmental economist from the School for Climate Studies at Stellenbosch University, there is hardly one solution that could be entirely successful in addressing the immense problem invasive species pose. He adds such species can also provide benefits as long as they remain under some level of control.
"What matters here is to access more resources to address water hyacinth invasions and clean the water ecosystems, which is something that such businesses (like Thekga) have the capacity to provide due to the economic value they are creating. It could thus be a virtuous cycle if the market materialises. Then negative impacts must be avoided and they can be due to either bad practices in collecting the water hyacinth (e.g. damaging other aspects of the ecosystems in which the operations take place), or a temptation to ensure the resource is not exhausted due to the needs to sustain the market operations. To prevent such impacts it becomes critical to associate the regulator to monitor operations and ensure they respect basic rules. This could also be done through private certification standards that would provide such guarantees."
Liryn de Jager is a freelance writer. She undertakes this work for Jive Media Africa on behalf of OGRC.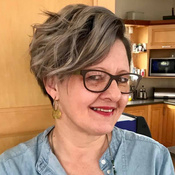 Latest posts by Liryn de Jager
(see all)